Date Posted: 3rd Aug 2012 at 7:05 AM

My CAW files
I've put my older worlds onto the Sims 3 exchange (hooray for decent upload speeds, at last it worked!).
Simsample's Studio
If you require the CAW files for those, they are uploaded to 4Shared.
If you are not a member at that site, try the login information given on Bugmenot to gain access. Otherwise, try the username [email protected] and the password modthesims (all lower case). 4Shared changed the requirements so that you need an account to download files.
Shearwater-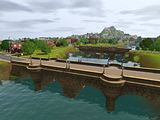 Click here for Shearwater CAW files.
(Resources included.)
For more images of Shearwater,
click here.
Sanctuary-
Click here for Sanctuary CAW files.
Resources available
here.
For more images of Sanctuary,
click here.
Sims for both of those worlds and for Jericho are in my Sims 3 studio too; they are labelled according to the world they were intended for.
CAW files for Jericho are linked in the Jericho download thread on this site.
I hope you have fun with them!