I'll be out for a while....
Date Posted: 2nd May 2009 at

10:57 AM
Hi there!

As you may have noticed my abents here on MTS. I do watch every day for new comments and respond to it when nessesary. I have to fill my time elsewhere, because I have a new job which take my attention away from making new lots. I do hope you'll understand it and after all....... I will come back!!

Best regards for all of you!


Eloissa

Date Posted: 31st Mar 2009 at

07:15 AM
Hi,

Zoals jullie ongetwijfeld vernomen hebben, ben ik een beetje bezig om een buurt te kunnen vullen met Victoriaanse bouwwerken. Na verschillende huizen gebouwd te hebben, is het nu tijd voor een paar apartementen in deze stijl. Ook deze worden weer gemaakt met een paar EP's dus niet met alles, gelukkig heeft Numeror Anygamestarter uitgevonden, zodat het uitsluiten van bepaalde EP's gemakkelijker maakt. Later zal ik ook andere Victoriaanse gebouwen maken, zoals Hotels, Studentenkavels en winkels etc. Maar nu eerst apartementen!

Groetjes

Translations:
Hi,

As you probably have noticed, I'm a little bit busy to fill a neigbourhood with Victorian Style buildings. After a few residentials, it's now time to make some apartments in Victorian Style. Fortunately Numeror has invented Anygamestarter, so therefore it's easier to exclude some EP's. In the future I'll make some other buildings like Hotels, Dorms and Communitylots as well. But first Apartments.

Greetings

Date Posted: 15th Mar 2009 at

12:54 PM
If you do have questions about building, comments about my uploads or even requests, this is the right place to be!
Vertaling van Review Parsimonious Sims 3 + translation
Date Posted: 6th Feb 2009 at

09:52 PM



Hallo allemaal,

Ik ben bezig geweest om het verslag over The Sims3, van Kate haar bezoek aan the Sims 3 Creator's Camp hosted by Maxis January 2009, te vertalen in het NL. Dit verslag staat te lezen op de site van Parsimonious in het engels.
De vertaling in het NL vind je in Holland group, hier op MTS2.

Veel leesplezier !

_________________________________________________________
Translation into English:



I made a translation in Dutch over the review from Kate's experience she had with the Sims 3 Creator's Camp hosted by Maxis January 2009. Kate is from Parsimonious. You can read this review at Parsimonious in the English language. To read it in Dutch, you can find it at The Holland Group, here at MTS2.

Have a good time

MTS2 en dan in het nederlands babbelen + Translation
Date Posted: 3rd Feb 2009 at

03:10 PM
Hallo medesimmers.

Ik ben al een jaar of 3 lid van dit forum en heb geconstateerd dat er maar bar weinig nederlands wordt gesproken. Aangezien dat ik mezelf meestal goed weet te redden in het engels maar soms ook problemen heb in het vinden van de juiste zinnen en woorden in deze taal, is het misschien handig om ook hier op deze site, een nederlands miniforum te maken. Zodat wij als nederlanders, elkaar behulpzaam kunnen zijn en dan gewoon in je eigen moerstaal.

Ik heb op dit forum dan ook een social group aangemaakt zodat we daar een eigen stekkie hebben. Dank je MTS2 voor deze mogelijkheid hier.

Dus wil je mee babbelen over de sims in het NL?

Meld je dan aan bij de

Holland Groep



Tot dan !


______________________________________________________________
Translation into English:
Hello fellowsimmers!

I'm a member of MTS2 for 3 years now and I discoverd that there are several Dutch people around here. Al do I can take care about the English lanquage, sometimes it's a hard issue to find the proper words. Maybe that's a good reason to have a Social Group in our own language, The Holland Group.

If you want to join us, register with this

Holland Groep



See you!


George Freaker.... My testbunny!
Date Posted: 14th Jan 2009 at

08:12 AM
Hi all,

Let me introduce you to my testsim George Freaker.
It's a weird guy, a little shy, very negligent but a very hard worker to me!


Sometimes he don't listen to me, and nags all the time

But in the end he always do what I want him to do!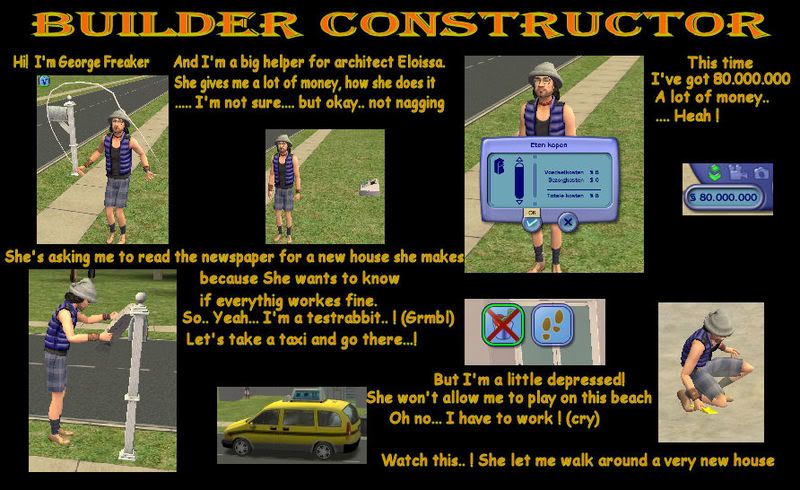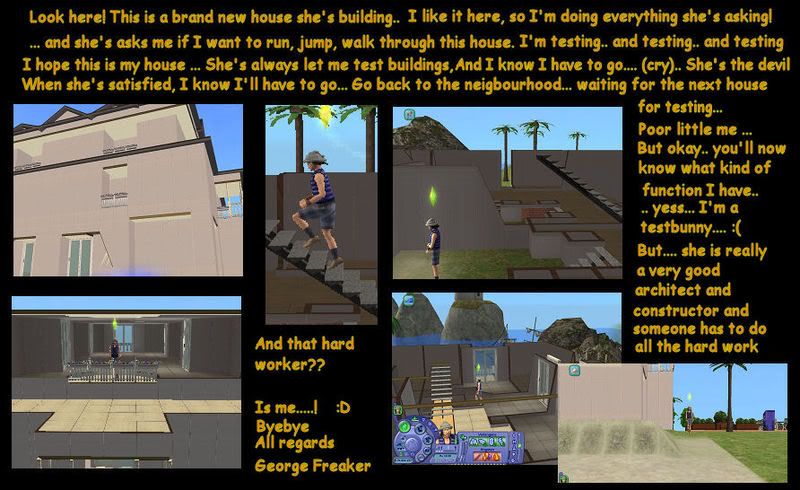 ps. Tss

What a nagger!!
On the last day off this year!
Date Posted: 31st Dec 2008 at

12:55 PM
Hi folks!



On this last day of the year 2008, I want to wish everybody all goods, love, healthness etc for 2009.

Years go by, to quickly in my life, a lot off unexplainable things happened.
Modthesims wasn't out of my life, but many others things took my attention away from the site.



Maybe you noticed that I made a few new lots couple days ago and I'm planning to make many more in the future.

Please let me know what you think about the new lots.

For now:

Happy Newyear!



(Sorry for my very bad English)
Thanks to all downloaders !
Date Posted: 6th Mar 2007 at

04:18 PM
Hi all,

Today I reached the 20.000 downloads. This would'nt happend, if you downloaders decide not to download anything, but you all did, what gives me a joy to build even more houses. I like building a lot, more than play the game.
And I'm surprised that so many houses where downloaded at all. That's a reason for me to build more houses, wich I hope you will like aswell too.

Thank you a million times for downloading anything off my stuff.

But tomorrow, finaly the day is there for me

, and I have Seasons in my possession, so the next few days I will play the game!

Best Regards,



Eloissa
Date Posted: 25th Dec 2006 at

06:41 AM
I want to wish everybody a merry christmas and a wonderfull, healty, loving 2007.



Eloissa
Date Posted: 9th Sep 2006 at

10:28 AM
I opent this journal, so you can have the chance to know a little more about me.

I'm a 38 years old mother of 2 children. Happily married to a wonderfull loving husband, and we live in The Netherlands.

I'm crazy about the sims for years, but I prefer Sims2 over Sims1!

I'm not a real sims player but I love to make houses en decorate them.
I'm always searching to a challenge and trying to realize that challenge.